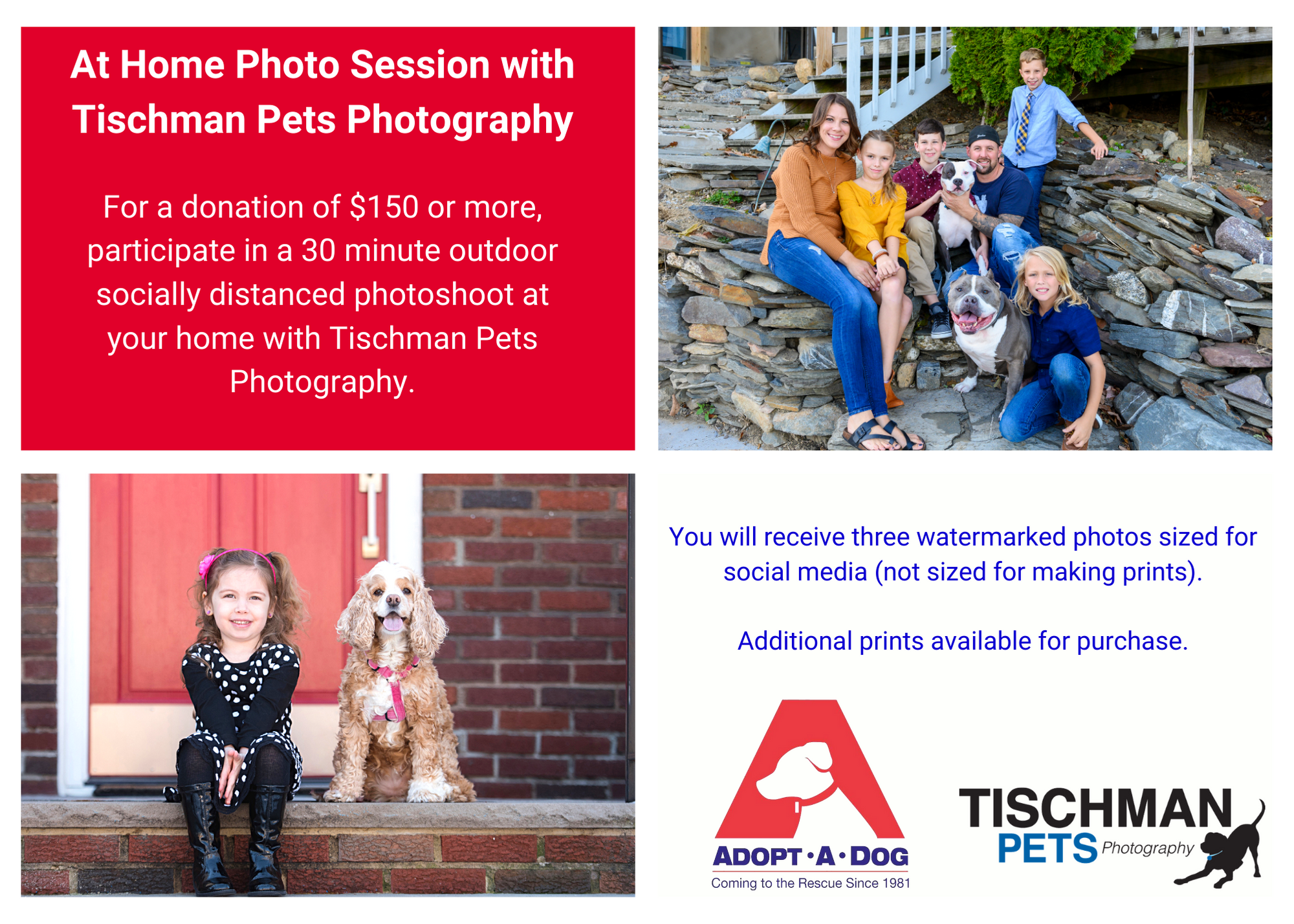 Sign up for a 30-minute outdoor photo session with Tischman Pets Photography at your home for a donation of $150 to Adopt-A-Dog. Geoff Tischman, our photographer at Puttin' On The Dog each year, takes wonderful pictures and usually has a line out of the Pet Pantry Tent each year. This year he will come to you! Photo sessions are available to those who live in Westchester and Fairfield County. To sign up please email samara@adoptadog.org. 
---
Cathy Kangas Joins Board of Adopt-A-Dog
"I am thrilled to join the board of Adopt-A-Dog. Their life saving work has saved thousands of dogs from euthanasia. Adopt-A-Dog has proudly served the Westchester-Fairfield community for more than 35 years," Kangas said in a release. "The dogs I have adopted from this shelter are wonderful animals that they have socialized to live with a family." -Cathy Kangas
Check out the full article: 
---
Pets Are Family Too
Chandra Freeman has generously donated $250 to Adopt-A-Dog to help dogs in need. Chandra has been making and selling masks with her Mother since March. They donate 20% of the proceeds to animal shelters in our area.
Chandra is a healthcare worker herself and wanted to make an even bigger impact. She says "As a health care professional I take pride in providing the best care for my patients and I am committed to making sure an animal's life is comfortable too. It brings me the great satisfaction knowing that I'm doing all I can to address my patient's needs, including their pets by donating as much as I can to various animal shelters. There are so many ways we can help alleviate the hardships our community of patients are dealing with, and this is one of the ways my mother and I are trying to make a difference because pets are family too."
"We know pets provide us with unconditional love, a friend who is always loyal to us. For some, pets are companions and service animals. Medical professionals recognize that pets can aid in medical treatment and recovery as part of a wholistic form of therapy.  According to Northwell Health's Madalyn Frank-Cooper, "pet therapy increasingly is being utilized to help people with behavioral health issues, autism, post- traumatic stress disorder and depression." Frank-Cooper, who oversees the pet therapy program at Long Island Jewish Forest Hills Hospital believes, "petting an animal has a lowering effect on your heart rate and blood pressure, especially in anxious patients." I thought I could do more to help my patients by helping the many pets who have been adversely impacted by the pandemic by selling masks and donating to no kill animal shelters." -Chandra Freeman
---
Adopt-A-Dog is need of Unicorn Fosters or Adopters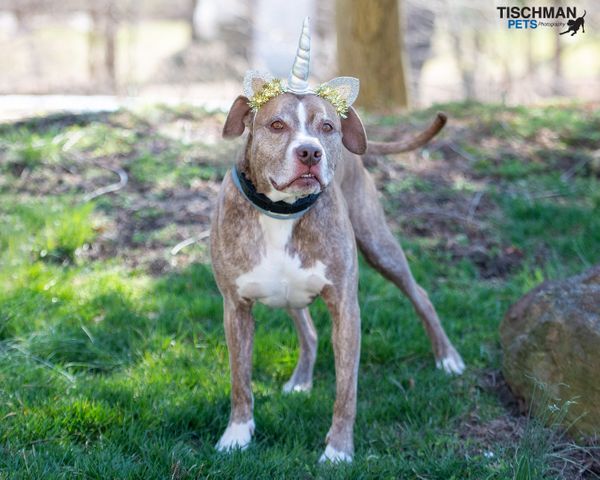 Unicorn fosters and adopters are in a unique situation to be a great match for a very special shelter dog in need. If you answer 'yes' to any of the following questions, you just might be the magical unicorn Adopt-A-Dog is looking for!
Do you live on your own but need some companionship?
Do you have a soft spot for older dogs who have those amazing gray muzzles which reflect all of their years of wisdom?
Have you ever met a dog that has special needs, like a dog who is deaf or whose life is a little more challenging because of physical limitations?
Do you love having one pet to focus all of your attention and energy on?
Do you know what it's like to give a very special shelter dog a place to call home? Do you want to know?
You don't have to answer 'yes' to all of the questions listed above to be considered a unicorn; just one of these perks can open up the possibility of a foster and/or adoptive home for one of our incredible dogs.
These are the types of unicorns Adopt-A-Dog is looking for. The media is showing kennels being emptied due to so many homes opening their doors to shelter animals – the dogs we save need a little extra love and deserve a chance. They can practice their manners, perhaps experience backyards, get tummy rubs, watch TV, and most of all they can finally relax. Shelter life is very stressful on dogs which is why this is so important. You and the rest of the community have always come through for all types of dogs, and now Adopt-A-Dog need your help for these dogs – we can do this!
Adopt-A-Dog has amazing dogs at the shelter in need of unicorn fosters or adopters. The staff at Adopt-A-Dog will make sure you are fully trained and ready to care for one of these dogs. This includes a virtual behavior consult as well as all of the information and supplies you will need to care for the lucky dog going to your home. All fosters and adopters have access to staff 24 hours a day, 7 days a week if you ever have questions, concerns or just want to share a cute picture or video of your foster dog enjoying life.
If you are interested in fostering or adopting please contact Adopt-A-Dog at info@adoptadog.org or take a look at the adoptable dogs at www.adoptadog.org. Located in Armonk, New York, Adopt-A-Dog pulls dogs from local shelters and helps people in the community who are no longer able to care for their dogs. Adopt-A-Dog provides these dogs with lots of love and training, and transforms them into amazing, loving family pets.
There is nothing like the love of a rescue dog. Email Adopt-A-Dog to find out how to become a unicorn!
---
Foster Updates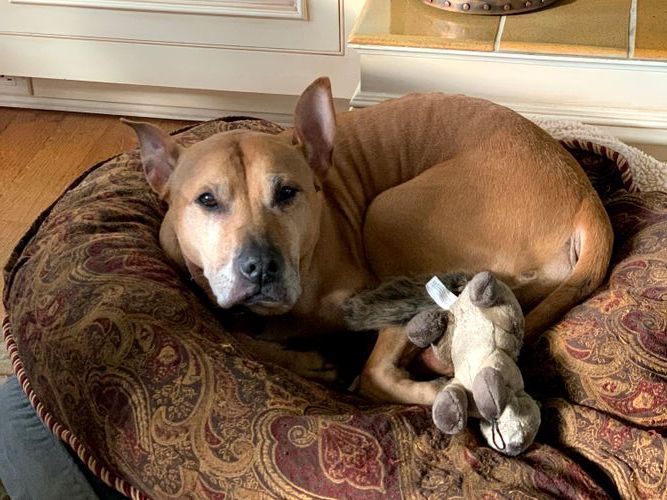 Ella was fortunate to be in a foster home since March, giving company to her foster dad while he worked from home during the Covid outbreak. He was recently called back to work and sadly needed to bring Ella back to the shelter. We were thrilled to hear how well she did in her foster home, settling right in, and we know she is ready to find a forever home. While she waits, she is making herself comfortable as an "office dog" at the shelter where she has her own bed (with a pink blanket!) and lots of toys. She is also a great supervisor of staff, peeking out at us as we do our work. If you adopt her, she promises to help you stay focused on your work too!
Ella is available for adoption!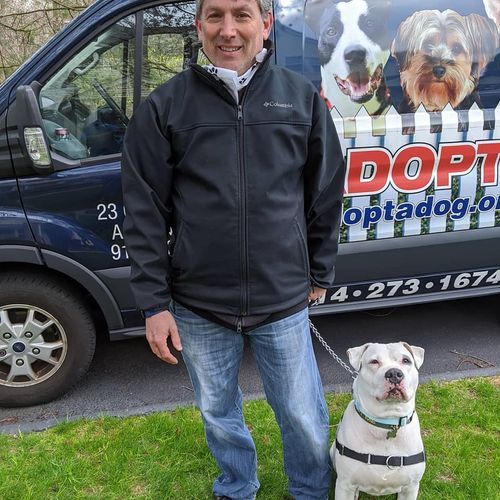 Boo has been a long time shelter resident now since 2015. Our friends at Mt. Vernon Animal Shelter have taken such great care of her and when she was adopted two years ago they thought the job was done. Sadly Boo was returned after a year with her family due to housing issues but they greeted her with open arms. Due to Covid-19 their shelter is understaffed and volunteers are unable to come help. We wanted to do our part to help. So we picked her up and Boo is now in foster with one of our amazing volunteers Scott! We are so excited to help this lovely girl find her new home. Boo is 7 years old, deaf (doesn't hinder her at all), and an absolute sweet heart.