Meet Turducken and Her Three Sides
A few weeks ago, we were contacted by Yonkers Animal Shelter about a female stray in their care. The next day when staff arrived, they discovered she had given birth to puppies. They had her for over a week, and she became more protective of her puppies every day. Yonkers called us when they needed support and could no longer handle her safely. 
We knew we could step up and help the whole family, so we got in the van to pick them up. Welcome, Turducken, and her side dishes Cranberry, Stuffing, and Yam! From the moment we met her, Turducken showed us that she would be a dedicated mother to her little sides, and we best stay out of her way. We have been hard at work every day, slowly gaining her trust, and every day, she shows signs of significant progress. We are very excited to see this family flourish by providing them the support they need for the journey. 
Turducken and her three pups have been in our care for almost two weeks, and she is beginning to gain our trust. She has been such a wonderful mom and takes such good care of her puppies. We are unsure what her history is but are so excited for her future. This family will be together for the next several weeks as the puppies continue getting the vital time they need with their mama and each other. 
**Turducken and her sides are currently not available for adoption. We will introduce everyone individually as they settle in with us over the next several weeks. Follow their journey to becoming available on Facebook!**
---
Pet Pantry's No Go Dog Show Swag Bag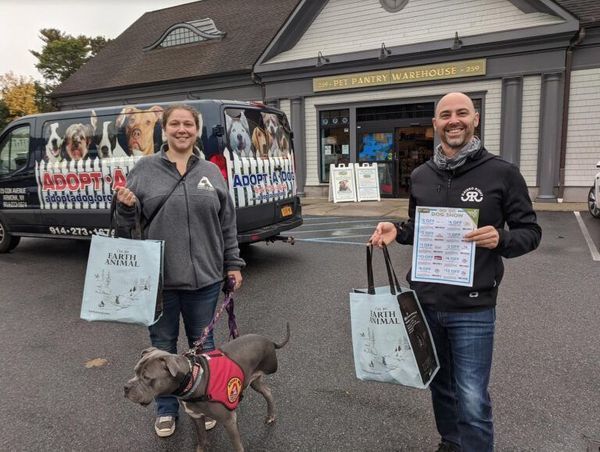 Pet Pantry is raising money for Adopt-a-Dog and other local organizations with their "Pet Pantry Pack". The specially curated bag of pet products, samples, and coupons from participating brand sponsors retails for $25.
"Each year we sponsor several family fun events at the hyper-local level, these events raise tens of thousands of dollars for critical animal welfare organizations in addition to others that are special to our team and our customers," said Adam Jacobson, Executive VP of Pet Pantry Warehouse in a release, adding, "Not only are these FUN-raising events entertaining for families to attend with their pets, but they provide a place for neighbors to connect and learn about some of the needs in their own community. Attendees always love to take home bags full of free samples of quality pet food and products from these events. So, this inspired us to create a special event package for our retail stores and donate the money we raise."   
This year's canceled events include the annual New Canaan Dog Days, the annual Puttin' on the Dog, the annual Howl & Prowl, and Fairfield Dog Days.
"The cancellation of events this year has led to a shortage of $70,000 in funds that we desperately need to carry out our mission," said Kristen Alouisa, Executive Director at Adopt-a-Dog. "We are so grateful to Pet Pantry Warehouse for holding the No Go Dog Show to help raise money to save the lives of the most at-risk animals."
Pick up your No Go Dog Show swag bag in stores or purchase online for curbside pickup.
---
Adopt-A-Dog is need of Unicorn Fosters or Adopters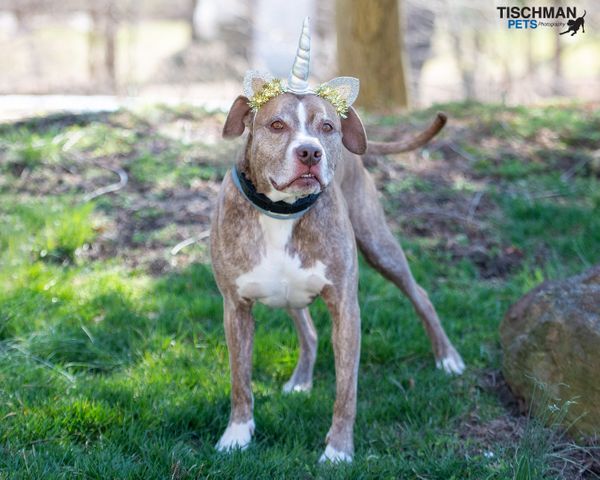 Unicorn fosters and adopters are in a unique situation to be a great match for a very special shelter dog in need. If you answer 'yes' to any of the following questions, you just might be the magical unicorn Adopt-A-Dog is looking for!
Do you live on your own but need some companionship?
Do you have a soft spot for older dogs who have those amazing gray muzzles which reflect all of their years of wisdom?
Have you ever met a dog that has special needs, like a dog who is deaf or whose life is a little more challenging because of physical limitations?
Do you love having one pet to focus all of your attention and energy on?
Do you know what it's like to give a very special shelter dog a place to call home? Do you want to know?
You don't have to answer 'yes' to all of the questions listed above to be considered a unicorn; just one of these perks can open up the possibility of a foster and/or adoptive home for one of our incredible dogs.
These are the types of unicorns Adopt-A-Dog is looking for. The media is showing kennels being emptied due to so many homes opening their doors to shelter animals – the dogs we save need a little extra love and deserve a chance. They can practice their manners, perhaps experience backyards, get tummy rubs, watch TV, and most of all they can finally relax. Shelter life is very stressful on dogs which is why this is so important. You and the rest of the community have always come through for all types of dogs, and now Adopt-A-Dog need your help for these dogs – we can do this!
Adopt-A-Dog has amazing dogs at the shelter in need of unicorn fosters or adopters. The staff at Adopt-A-Dog will make sure you are fully trained and ready to care for one of these dogs. This includes a virtual behavior consult as well as all of the information and supplies you will need to care for the lucky dog going to your home. All fosters and adopters have access to staff 24 hours a day, 7 days a week if you ever have questions, concerns or just want to share a cute picture or video of your foster dog enjoying life.
If you are interested in fostering or adopting please contact Adopt-A-Dog at info@adoptadog.org or take a look at the adoptable dogs at www.adoptadog.org. Located in Armonk, New York, Adopt-A-Dog pulls dogs from local shelters and helps people in the community who are no longer able to care for their dogs. Adopt-A-Dog provides these dogs with lots of love and training, and transforms them into amazing, loving family pets.
There is nothing like the love of a rescue dog. Email Adopt-A-Dog to find out how to become a unicorn!