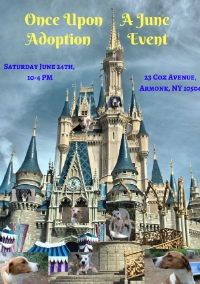 It's the end of the month, which means our monthly Adoption Day is just around the corner! On Saturday, June 24th, we will be introducing Adopt-A-Dog's newest additions to the public!
Meet the gang:
Rumpelstiltskin – 2 year old Pit Bull Mix
Pinocchio – 12 month old Beagle
Pascal – 2 year old Hound Mix
Jiminy Cricket – 3 year old Chihuahua Mix
Hansel – 3 year old Boxer/Hound Mix
Thumbelina – 12 month old Pit Bull/Husky Mix
Gretel – 8 year old Beagle Mix
Esmeralda – 5 year old Black and Tan Coonhound
Aladdin – 8 month old Border Collie
Peter Pan – 2 year old Cattle Dog
---
Rumpelstiltskin

Pinocchio

Pascal

Jiminy Cricket

Hansel

Thumbelina

Gretel

Esmeralda

Aladdin

Peter Pan
This group of amazing dogs came all the way from Ohio. After their long journey to Adopt-A-Dog, they are eager to find their forever homes!
The Adoption Day will be held at the shelter, located at 23 Cox Ave, Armonk NY. It will be open to the public, so please swing by and meet your new best friend! The event will run from 10am-4pm.
For more information on our available dogs, head over to our adoption page here.
---