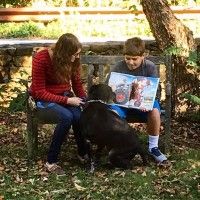 Happy Thursday! Are you a preteen or teen looking to change the lives of animals in need? Or know of a preteen/teen looking to help animals in need? Adopt-A-Dog is starting its Paws for Change Campaign this year, to encourage the youth of the Tri-State Area to do just that.
The Paws for Change Campaign starts January 1st, 2017. Applicants can sign up throughout the year, but will have to submit their project by September 1st, 2017. Adopt-A-Dog is looking for young volunteers who truly want to help homeless animals and raise awareness.
Two trophies will be given out at the end of this campaign. The Lucky & Penny Memorial Award (ages 12 & under) and the Donna Nives Award (ages 13-18). These awards will be presented at our 30th Annual Puttin' On the Dog & Cats Too Festival on Sunday, September 17th, 2017. The trophies will be presented to two youth volunteers who have gone above and beyond in changing the lives of homeless pets and raising awareness of our shelter and how to help dogs in need.
Puttin' On the Dog & Cats Too is an annual festival that doubles as a fundraiser for Adopt-A-Dog and an adoption event for multiple shelters in the surrounding area. Puttin' On the Dog is an event for all ages! With music, vendors, demonstrations, competitions and activities for dogs and pet lovers, there is truly something for everyone.
Join the Paws for Change Campaign
The first step is to complete our PAWS FOR CHANGE Questionnaire Form here
Once received, our Volunteer Coordinator will be in touch with more information.
All projects must be submitted by September 1, 2017.
Ideas for the Paws for Change Campaign:
Donation Drive
Community Service Opportunities
Sponsor a Dog in Need
Read to the Dogs
Help at Offsite Events