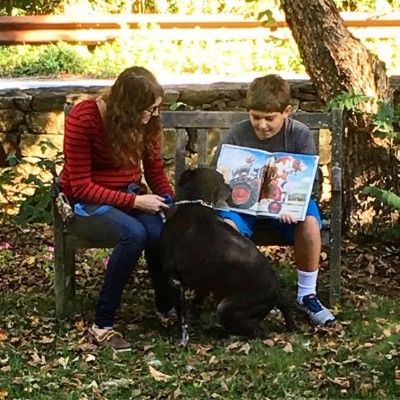 Happy March everyone! Yesterday was National Read across America Day! This is a special day at Adopt-A-Dog thanks to our Dog Tails Program.
Adopt-A-Dog's Dog Tails Program started just a few months ago. Dog Tails gives our youth volunteers the opportunity to read to some of the shelter dogs, and it is a huge hit!
Reading to the dogs is a great way for our dogs to get out of their kennel runs and socialize with kids. This program helps them get "real world" experience, which helps them further along in their adoption process.
Our dogs really love this program
The dogs that participate in this program really do love it. We have dogs that really listen to the story, we have even caught them looking at the pictures! Being around the kids, in a peaceful environment helps the dogs de-stress. A shelter environment is stressful on all dogs and anytime away from the kennel benefits the dog.
This program benefits the youth volunteers as well as the dogs. We have had kids and school groups come in that have a difficult time reading. Amazingly enough, reading to the dogs helps keep the kids calm and forget about their nerves. And of course all the kids love being around cute, lovable dogs.
Even though Dog Tails is fairly new at Adopt-A-Dog, it is definitely one of our most popular programs. Thank you to all of the kids that come to read to our dogs and brighten their day!
If you are interested in participating in our Dog Tails Program, please visit our website and check out all of our volunteer opportunities!