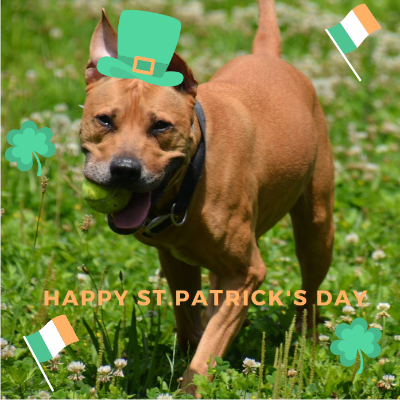 Happy Thursday everyone! Tomorrow is St. Patrick's Day, arguably one of the best holidays of the year. So this week we want to share some tips on how to celebrate with your pup while keeping him/her safe.
First let's give a quick shout out to our Irish Breeds: Glen of Imaal, Irish Setter, Irish Terrier, Irish Water Spaniel, Irish Wolfhound, Soft Coated Wheaten Terrier, Kerry Beagle and the Kerry Blue Terrier. Happy St. Patrick's Day to our Irish pups!
When celebrating St. Patrick's Day, people love to attend Parades and enjoy a few adult beverages, which isn't always a dog's idea of a good time. Some dogs don't mind parades and enjoy being around people. However, many dogs tend to get anxious and uncomfortable in crowds and parade settings. If your dog is like this, it's advised to stay clear of the parades and parties with your pup. Take them somewhere quite instead.
If you plan on having a few adult beverages on St. Patrick's Day, keep your pup at home or make sure they do not consume any alcohol. Alcohol can cause many health problems for your pet.
Lastly, if your dog is not comfortable dressing up, do not force them into a leprechaun type outfit, no matter how adorable you may think it is. If you do plan on dyeing your dog green, please be sure to use non-toxic, pet friendly dye.
Greenwich Parade
On Sunday, March 19th, Adopt-A-Dog will be marching in the Greenwich St. Patrick's Day Parade! The parade will start at 2pm at Town Hall. Be sure to keep an eye out for our Adopt-A-Dog van and adoptable dogs marching in the parade. The parade will go on rain or shine.
Happy St. Patrick's Day to all of our Irish followers and fans from the beautiful Emerald Isle! Erin go Bragh!