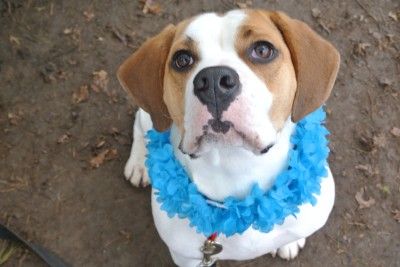 Warm weather has arrived and the dogs of Adopt-A-Dog could not be happier. One dog in particular is extra happy, and that is our Adoptable Dog of the Month, Barney.
Barney's face can melt anyone's heart. This little nugget is a 2.5 year old Beabull (Beagle/Bulldog). On a nice day, or even a snowy day, you can find Barney running through the yards chasing a tennis ball. When he isn't playing a game of fetch, he can often be found in a doggy playdate. Barney loves playing with other dogs, as long as they are his size or bigger. Smaller dogs tend to remind him of cats, and he is not a fan of cats.
Barney may be adorable, but he is more than just a pretty face. He is quite the star in our training program. He knows basic and advanced obedience training, so he is more than ready to be adopted and go to his forever home. No dog will sit faster than Barney when waiting for a treat.
This goofy dog can be a little wary of strangers, but once he gets to know you, he will sit by your side, go on adventures and be your best friend.
If you think you could be Barney's permanent fetch partner, fill out our online adoption application at adoptadog.org and give us a call at 914-273-1674. We are located at 23 Cox Ave, Armonk, NY.