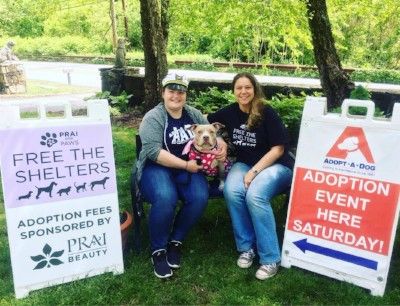 April has really been holding true to the saying, April showers bring May flowers. On this rainy, April day, we would like to update everyone on our new morning talk show, The Morning Bark!
The Morning Bark is a new weekly special that Adopt-A-Dog posts on Facebook Live every Friday Morning at 11am. The Morning Bark is presented by Pet Pantry Warehouse and is essentially a virtual adoption appointment.
Executive Director Kristen Rice and Adoptions Coordinator Kelly Duggan are The Morning Bark talk show hosts, who hold the virtual meet and greet and speak for the guest (adoptable dog). Each week a different adoptable dog is featured and our viewers get to take part in a virtual adoption appointment.
During the show, the dog will let us know his or her favorite activities and who their perfect adopter would be.
The Morning Bark premiered on Friday, March 24th with special guest, Barney. This week we will be featuring Denzel. Denzel is one of our North Carolina dogs and is ready to find his forever family.
Ask Questions!
We want to be an interactive talk show and we are always looking for feedback. Feel free to leave comments and suggestions on our videos. Let us know if there is a certain dog you would like featured. If you leave comments while we are live, we will try to answer them!
Join us every Friday for The Morning Bark to meet a new, adoptable dog!