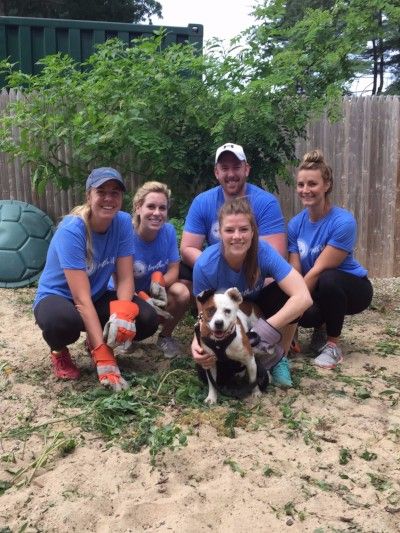 Somehow it is already the last Thursday of April and the rainy April days are almost behind us. This week's blog is a two-for-one. It is National Volunteer Week, so we will be praising our volunteers, and April 30th is National Adoption Day (just one day after our Adoption Event)!
National Volunteer Week
National Volunteer Week started on April 24th, and to show our appreciation, we held a Volunteer Appreciation Breakfast, run by our Volunteer Coordinator, Samara Fine. The Appreciation Breakfast was to honor the volunteers who bring a diversity of interests, knowledge, expertise and caring to our organization and we cannot thank them enough.
At our Appreciation Breakfast, we had our volunteers write down why they enjoy volunteering at Adopt-A-Dog. Here are some of their testimonials:
"To help the animals who cannot help themselves and deserve the best! Love what Adopt-A-Dog does for these precious dogs! Thanks!"
"It's a great cause, does great work, especially enrichment. Wonderful, caring staff and volunteers."
"Helping homeless dogs find a home with like-minded people whose company I enjoy."
Volunteers help us create a better life for our dogs every day. Share your strengths and volunteer at Adopt-A-Dog today!
National Adoption Day
National Adoption Day, one of the best days of the year, is this Sunday, April 30th. National Adoption Day just happens to fall the day after our first Adoption Day of the year, on Saturday, April 29th from 10am-4pm! What better way to celebrate National Adoption Day then adopting a dog!
Stop by the shelter at 23 Cox Ave, Armonk, NY to meet our adoptable dogs. To beat the lines, fill out our online Adoption Application prior to Saturday, April 29th. If you can't make it to our Adoption Event, please stop by on Sunday, April 30th, National Adoption Day, to meet our adoptable dogs!