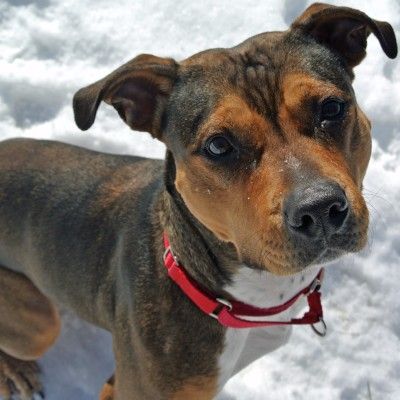 We hope all of our fans enjoyed the month of May. We know Roxie, our dog of the month, definitely did!
Roxie's previous family had never owned a dog before, so Roxie did not get enough exercise, training, socializing or nutrition. Roxie has come a long way since arriving at Adopt-A-Dog and is a very sweet and loving girl once she gets to know you.
Roxie is two years old and is definitely one of the "jocks" at the shelter. During her free time, she loves to burn off some energy. You can catch Roxie running around the yards, chasing balls and sometimes she even gets to go on runs with volunteers.
She loves her play time here at Adopt-A-Dog, but Roxie isn't all play and no work. She has been through our obedience program and knows her basic obedience. Roxie walks well on leash and loves getting out on walks with volunteers to see what life is like outside of Adopt-A-Dog.
Roxie looks forward to one day having a family all her own who will take her on hikes, runs and cuddle with at night.
If you are interested in exploring the world with Roxie, please fill out our online adoption application at here and gives us a call at 914-273-1674. We are located at 23 Cox Ave, Armonk, New York.