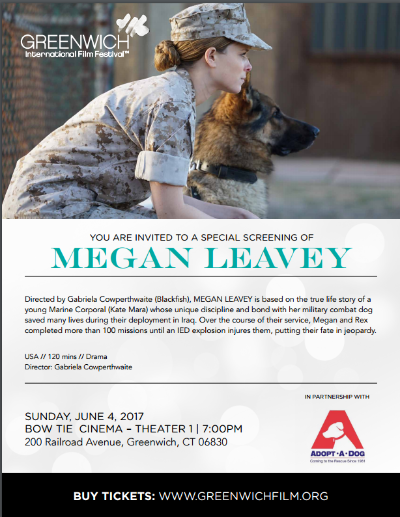 Happy June Paws for Thought fans! This week we are excited to announce our partnership with the Greenwich International Film Festival and the film MEGAN LEAVEY.
The special screening of MEGAN LEAVEY will be on June 4th at 7pm at Bow Tie Cinemas in Greenwich, CT.
MEGAN LEAVEY is based on the true story of a Marine Corporal who is assigned to clean up the K9 unit after a disciplinary hearing. Leavey identifies with an aggressive dog, Rex, and is given the chance to train him.
Be sure to purchase your tickets now for this special screening at http://www.greenwichfilm.org/. The Greenwich International Film Festival is always a wonderful event and we can't wait to be a part of all the excitement! We hope to see you there.