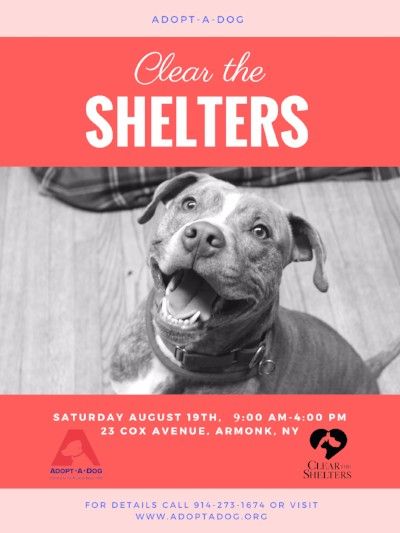 We are gearing up for the Adoption Event of the summer! The Nationwide Adoption Day, Clear the Shelters, will be held on Saturday, August 19th.
For our fans that don't know, Clear the Shelters is an event where more than 40 local NBC and Telemundo television stations team up with approximately 700 animal shelters across the country to help find homes for thousands of homeless pets. The participating animal shelters offer no-cost or reduced fee adoptions.
In 2015, 26 dogs were adopted from Adopt-A-Dog thanks to Clear the Shelters! We are hoping to reach that kind of success this year.
This year during Clear the Shelters, Adopt-A-Dog will be waiving adoption fees.
The next few blogs leading up to August 19th will be geared toward Clear the Shelters; helping our audience prepare for adoption and what it is like to have a dog!
Remember, adoption rocks, so join us on August 19th for Clear the Shelters! We are located at 23 Cox Avenue, Armonk, New York.