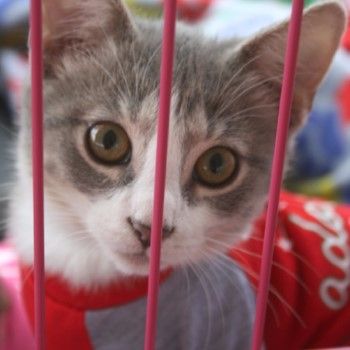 With Puttin' On the Dog less than a month away, we want to spotlight a few areas at Puttin' On the Dog. This week we will spotlight the Cat Pavilion Area.
Don't let the event name fool you; we do have a fantastic cat area as well! Each year we have cat rescues attend Puttin' On the Dog to help get their cats adopted. Attendees love going to the Cat Pavilion and looking at all the adorable cats ready for adoption.
The H/3 Foundation is sponsoring the Cat Pavilion area for the second year in a row. They will even be sponsoring all cat adoption fees for the day! We love working with the H/3 Foundation because they bring such a positive energy to the show and truly want to help cats and kittens find their forever homes.
Where can you find the Cat Pavilion? Right next to the Adopt-A-Dog adoption tent!
Cat Rescues attending Puttin' On the Dog 2017:
* Furrr 911
* Cat assistance
* Best Friends NYC
* Adore-A-Bullie Paws and Claws
Excited for Puttin' On the Dog and interested in adopting a cat and/or dog? Join us at Roger Sherman Baldwin Park in Greenwich, CT on Sunday, September 17th for a day of fun! The event will start at 10am and go until 4:30pm.