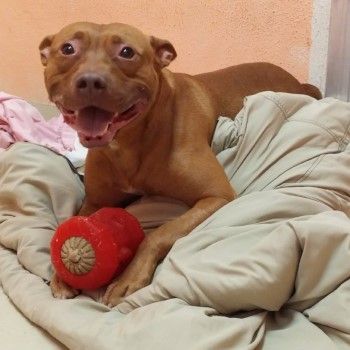 Welcome back Paws for Thought fans! Believe it or not, dogs, just like people, get bored. So this week we will be going over ways to help keep your dog from becoming restless and bored.
A good way to keep your dog busy while you are away is setting them up with a busy toy or a puzzle feeder. Kong's are a great busy toy. You can fill up the Kong with your pet's food for the day, or even treats. Then your dog will have to play with the toy and knock it around to receive their reward. Kong's are also fun for dogs to chew on. A puzzle feeder is another great way to feed your dog if you are going to be gone for the day. Puzzle feeders keep your dog's mind and body active and engaged.
Spend some time exercising with your dog. Many dogs were bred for working and have a lot of energy. Going for a walk, run or even a game of fetch is a good way to help keep your dog active.
Does your pup have any doggy friends? Schedule a playdate! Dogs tend to burn off a lot of energy in a short amount of time when playing with each other.
Obedience training is a great way to keep your dog mentally stimulated. Like we said before, many dogs were bred for working and need physical and mental stimulation to keep them from becoming bored. Start with the basics (sit, lay down, shake, stay) and see how your dog does.
If you do not have the time for any of these ideas, think about hiring a dog walker or sending your pup to doggy day camp. It is important for your dog's mind and body to stay active! No one likes to be bored.