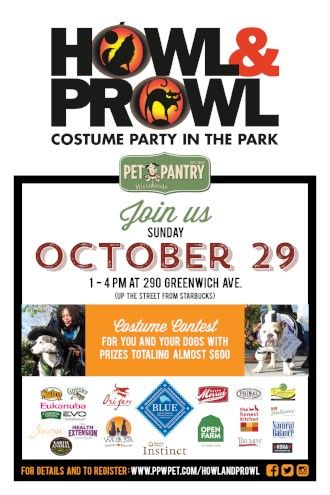 October is filled with fun activities to do with your dog. Our favorite though is Howl & Prowl. This year is the 10th Annual Howl & Prowl costume party, so you know it is going to be a "howling" good time.
Howl & Prowl is a costume contest hosted by Pet Pantry Warehouse that benefits Adopt-A-Dog.
Howl & Prowl takes place on Sunday, October 29th at 290 Greenwich Ave, Greenwich, CT, from 1pm-4pm. Howl & Prowl can be a fun time for the whole family, pets included! You can dress your dog up in a cute costume, see other dogs all dressed up and if you want, you can even dress up with your dog. And this year the winner of the costume contest will receive a gift certificate to Pet Pantry worth $575.
Although the main attraction is the costume contest, there will also be a "bone bar" for your furry friends, face painting, food trucks, free pet food samples from over 15 vendors, free photo portraits with Venture Photography and free pet caricatures.  
Don't have a dog to enter the contest? Not to worry. Adopt-A-Dog will have a few dogs available for adoption at Howl & Prowl, so you can enjoy the costume contest AND meet your new best friend.
What better way to start your Halloween celebrations than dressing up with your furry friends! Register your pup for the costume contest today! We hope to see you there.