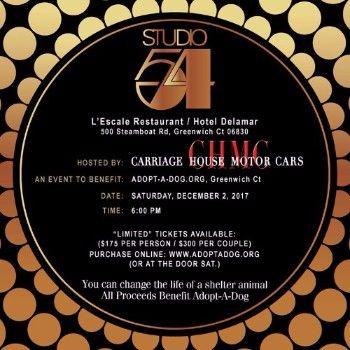 As we get closer to Thanksgiving and December, we can't help but get excited for the Holidays and upcoming events. In just about 2 weeks Carriage House Motor Cars is hosting a Studio 54 Party to benefit Adopt-A-Dog!
The Studio 54 Party will take place on Saturday, December 2nd at L'escale Restaurant, 500 Steamboat Rd, Greenwich, CT. Doors will open at 6pm. The event will have food, an open bar, DJ, dancing, auction and a prize for best outfit. So break out your platform shoes, flares, big hair, sequin and polyester!
Anyone who has been to parties thrown by Carriage House Motor Cars in the past (Ugly Sweater Party, Motown Night, Winter Wonderland) knows that this is one party you do not want to miss. Last year Carriage House Motor Cars Winter Wonderland party raised over $100,000 for Adopt-A-Dog! We can't wait to see what this year brings.
Tickets are available now and can be purchased online at adoptadog.org. Book your ticket now before it's too late and change the life of a shelter animal. Tickets are $175 per person and $300 per couple. We hope to see you there!