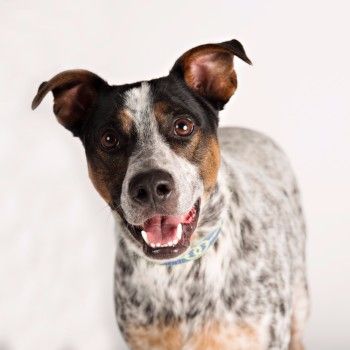 As November ends, it is only fitting that we shine a light on our November Dog of the Month, Parker. If you follow Adopt-A-Dog on social media, I'm sure you've seen his adorable face multiple times throughout the month.
Parker is one of our Diamonds in the Ruff, which means he has been here at Adopt-A-Dog for over a year. He is about 3 years old, weighing in at about 40 lbs. Parker is a goofy, fun-loving dog looking for a family to call his own.
Being one of our Diamonds in the Ruff, we have gotten to know Parker very well. He is very dog friendly. He loves to spend his days here at Adopt-A-Dog in the yards running around with other dogs. When he is not in a play date, he likes to sit next to his person and soak up all the attention. He is an active dog, so he enjoys walks, hikes and getting his exercise in.
Being the charming pup that he is, one of Adopt-A-Dog's staff members took him home to learn a little bit more about him for his potential adopters. What we learned from this visit is that he is very calm in the car and patiently waits until he arrives at his destination. He is a very good boy in a home. Once he is properly introduced to everyone, he fits in nicely to a home environment. He even sleeps through the night and greats you with a wagging tail in the morning.
Parker would be the perfect companion for any family with kids over the age of 18.
A list of Parker's favorite things:
* Being outside
* English muffins
* Playing with other dogs
* Going on walks