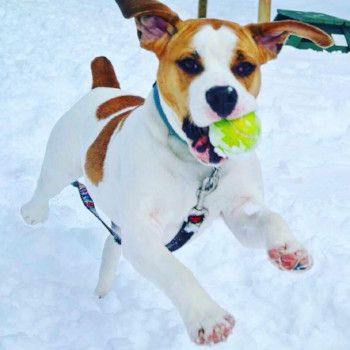 Happy Snow Day Paws for Thought Fans! Hope everyone is staying safe and warm during this snow storm! It's a great day to curl up next to your pup on the couch and just relax.
A snow day is a great excuse to spend all day with your best friend – your dog! Here are some fun ways to enjoy the day together.
• Does your dog like to play fetch? Try playing fetch with snowballs!
• Cozy up on the couch and spend the day binging Netflix and cuddling.
• Take them for a snowy hike. The snow can add a fun, new element to your usual hike.
• Take some cute pictures of your pup in the snow. Who doesn't love a photo shoot?
• Teach your dog a new trick. This is a great way to keep your dog's mind busy while cooped up inside.
• Bake some dog friendly treats. All dogs love treats. You might even want to make some treats for yourself.
If your dog gets cold easily, try putting a jacket or sweater on him/her. It will keep them warm and they will look adorable. If it is below freezing, only take your dog out for short bathroom breaks. Low temperatures can be dangerous to people and dogs. Lastly, if taking your dog out for a walk, be careful of salt on the roads. Salt can irritate the skin on your dog's paws. Try shorter walks or having your pup wear booties.
Now go enjoy your snow day!