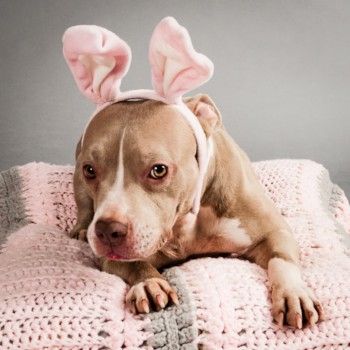 Easter is right around the corner, which means you'll probably be spending the weekend celebrating with family. And as we all know, our dogs are part of our families, so let them join in on the fun!
A fun way to include your dog on Easter is by making them their own Easter basket. You can fill it with Easter themed toys and treats. Just picture how cute it will be to see your dog going through an Easter basket.
Does your kid have a picture with the Easter Bunny? Why not take your dog to get his/her picture taken?! Plenty of malls across Westchester County have pet photo nights! Many pet stores do them as well.
A fun idea we've mentioned in the past is an Easter egg hunt for your dog. While the kids are running around collecting their eggs, your dog can do the same! Use one half of a plastic egg, fill it with some dog treats and hide them in the yard. Then let your dog's nose do the rest! Be sure to keep an eye on your dog during the Easter egg hunt to make sure he/she doesn't get into an egg that has candy.
Looking for something to do this weekend with the family?
We will be having our "Shelter of Hidden Treasures" adoption event and open house this Saturday from 12-4 PM! Come by 23 Cox Avenue in Armonk, NY to meet and find your very own "hidden treasure". Please contact us at (914) 273-1674 or adoptions@adoptadog.org for more information!