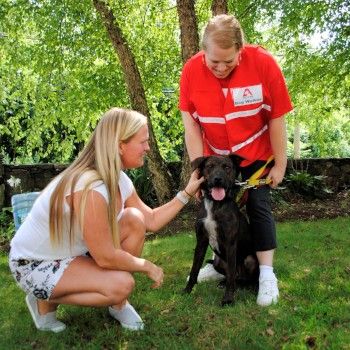 This week we will be highlighting our amazing volunteers because it is National Volunteer Week! Volunteer Week is a very special time, because we get to thank and honor our volunteers who bring a diversity of interests, knowledge, expertise and caring to our organization.
Last week we asked some of our volunteers a few questions about volunteering at Adopt-A-Dog.
Has volunteering helped you in any way?
Lynne: I feel like volunteering at Adopt-A-Dog has really given me the structure and purpose that I was searching for when I retired, in addition to feeling like a member of a team working to improve the lives of the dogs. Instead of counseling people, I now talk to those wonderful dogs. Nothing better!
Max: It has helped Max learn about commitment and increased his self-esteem (Max's mother).
Do you have a story or memory of your time volunteering here that is significant to you?
Lorraine: I have been volunteering at the shelter now for almost two years. In those two years I have walked a dog that has been there for some time. In the beginning it was just walking her without much interaction, but as time went by she got to know me and we bonded. Walking into the shelter was always a joy because she was just so excited to see me and greet me. It's hard to see a dog not get adopted for a long time when you know with love and patience it can work. I am so happy that she has finally found that forever home. To me there is nothing more rewarding than the day that very special dog goes home.
Lynne: I never really anticipated adopting a dog; however, my husband and I volunteered to medically foster a sweet little Havanese last summer, and we fell in love! She is now with us in her forever home and we couldn't be happier! Our two cats love her, too and she loves them.
Michelle: My first year volunteering I was able to work with Nemo for a couple of months getting him ready for adoption. I will never forget how great I felt when I heard he was adopted.
Why did you decide to volunteer with Adopt-A-Dog?
Jess: I love dogs and want to help make their time in the shelter as enjoyable and stress-free as possible.
Joli: My son, Max, loves animals, especially dogs and his school is very near so I thought it was a good idea to help dogs with our free time, plus he gets to practice his reading which helps his dyslexia.
Lynne: When I retired in May of 2016, I was so used to having worked in my own mental health practice for over 30 years. The thought of not having structure and purpose in my life going forward felt very uncomfortable for me. My good friend had also retired from teaching that year, so we decided to try Adopt-A-Dog as volunteers. I immediately loved the staff, other volunteers and, of course, the wonderful, sweet dogs! My husband commented to me that every time I came home from volunteering I had a big smile on my face and a lot less stress!
These are just a few testimonials from some of our dedicated volunteers. Volunteers help us create a better life for our dogs every day. Share your strengths and volunteer at Adopt-A-Dog today!