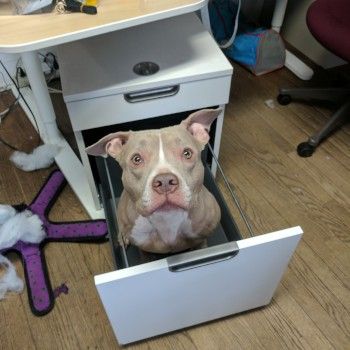 Today, June 22nd, is Take Your Dog to Work Day! For many dog lovers, this is pretty much the best work day of the year.
Take Your Dog to Work Day is a way to show people that dogs make great companions and a way to promote dog adoption.
If your company is looking for fun and unique ways to celebrate Take Your Dog to Work Day, suggest having the company take a trip to the local animal shelter. You can even try to see if a local shelter would be willing to take a couple of dogs to your office to celebrate. Shelter dogs love Take Your Dog to Work Day just as much as any other dog. The dogs of Adopt-A-Dog love when they get to spend some time in the office and supervise the staff.
If you plan on bringing your dog to work, make sure that everyone in the office is comfortable with your dog coming in. It is also important to remember all of your dogs necessities. At home you probably have a water bowl and food bowl out at all times. When going to the office, it may slip your mind to pack your dog's food and water bowl. You may also want to pack some of your dogs favorite toys to keep them occupied throughout the day.
Once you have all of these items in line, you are ready to take your dog to work!