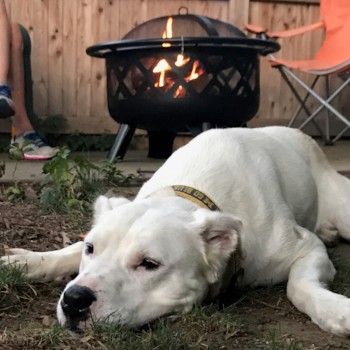 What is the best way to spend the Dog Days of Summer? With your dog of course! There is a good chance that everything you love about the summer, your dog does too.
• Go to the beach. Find a dog friendly beach. Everyone loves going to the beach in the summertime; why not bring your pup! You can see if he/she wants to run around in the water, play a game of fetch and maybe even play with some other dogs.
• Have some frozen snacks. People love to cool down with some ice cream in the summer. Guess what, your dog does too! Make dog friendly frozen treats.
• Hop in the pool. If you or a friend has a pool, go swimming with your dog. It's a great way to cool down and a great form of exercise! Don't have a pool? Fill up a plastic kiddie pool for your dog to splash around in.
• Go camping. Summer nights provide perfect camping weather and you can spend your days outside, exploring the woods with your dog.
• Watch a movie. Does your town have a drive-in movie theater? Set up the back of the truck and get cozy.
• Grab a bite to eat. Many restaurants that have outdoor seating will let you bring your dog. Only bring your dog if he or she is well behaved. You don't want to ruin anyone else's meal.
• Adopt a dog!
While enjoying the summer and spending time outside, be sure to always have water available for your dog. Dogs get hot and thirsty, just like us. If you plan on taking your dog for a walk, put the back of your hand on the ground for 5 seconds. If the pavement is too hot for your hand, it is too hot for your dog's paws.
Now go enjoy the summer!