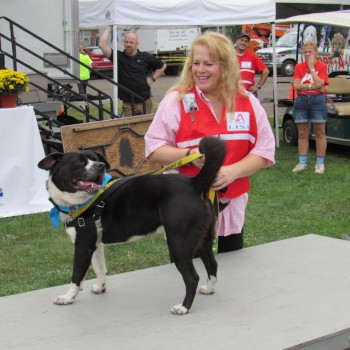 Puttin' On The Dog is THIS Sunday! Puttin' On The Dog is our biggest event of the year and Adopt-A-Dog wants everyone to stop by and experience the fun!
Last year this Greenwich tradition brought in over 5,000 pet lovers. Be sure to join in on the fun this year and purchase your ticket now. There will be dog demonstrations, food trucks, vendors, just-for-fun competitions to enter your dog in, adoptable dogs, a silent auction and so much more! Cornell University Veterinary Specialists will be joining us this year and sponsoring the First Aid Tent.
Don't let the event name fool you; we do have a fantastic cat area as well! Each year we have cat rescues attend Puttin' On the Dog to help get their cats adopted. Attendees love going to the Cat Pavilion and looking at all the adorable cats ready for adoption. This year the Cat Pavilion will be even bigger and better! The H/3 Foundation is sponsoring the Cat Pavilion area for the third year in a row and will be sponsoring all cat adoption fees for the day! We love working with the H/3 Foundation because they bring such a positive energy to the show and truly want to help cats and kittens find their forever homes.
This year Adopt-A-Dog will have adoptable dog parades, where the dogs of Adopt-A-Dog will strut their stuff in front of the crowds. There will also be dog orientated demonstrations. One of the fan favorites being the Greenwich Police K9 demonstration at 12pm. Looking for something good to eat? Look no further! Puttin' On The Dog will have over 10 food trucks! And you can't forget the silent auction, with tons of incredible items. 
With a fun children's area and dogs everywhere, it is a great event for your family AND your dog. Adopt-A-Dog encourages you to bring your dog to join the fun and sign up for a few competitions.
Don't have a dog to bring along? Puttin' on the Dog is also an adoption event! Puttin' on the Dog has multiple dog parades throughout the day that feature adoptable dogs from Adopt-A-Dog as well as other shelters in the area.
We hope to see you this Sunday at Puttin' On The Dog! Puttin' On The Dog will take place at Roger Sherman Baldwin Park, Greenwich, CT.