If you want to be in the know about what's going on at Adopt-A-Dog, you've come to the right place.
---
Purchase a K-9 Dryer and 10% of sales will benefit Adopt-A-Dog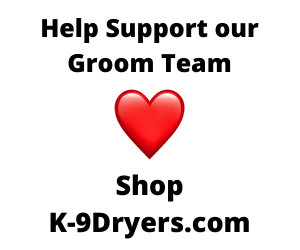 ---
Finn Update
Finn Update - He is doing very well!  His surgery was a success and we figured out the culprit to this blockage was a big piece of Kong. So we will be having a long discussion with him once he is back in our care. Finn and the whole AAD team would like to thank every single person who sent well wishes, shared his post on social media, and made donations. Out community have been absolutely amazing & made sure our life-saving work doesn't skip a beat! Finn will be healing with us for a few days and will be back with his foster in no time.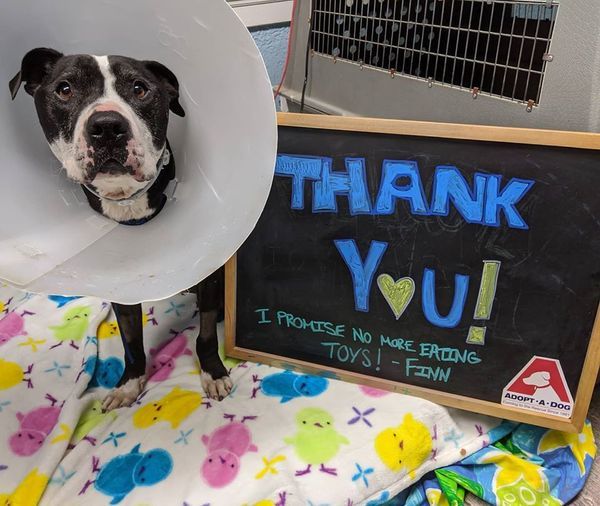 Foster Updates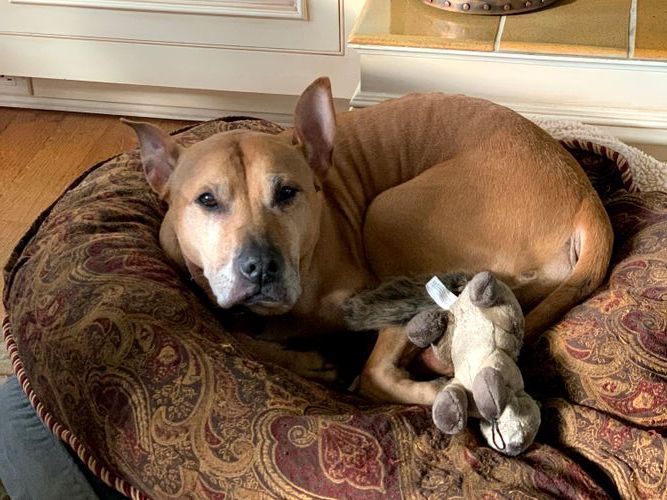 Ella has been loving her foster home. She has found the perfect sun spot which she spends all day following and has a comfy bed to rest and play with toys. She loves her foster family and they keep telling us how well she is doing!
Ella is available for adoption!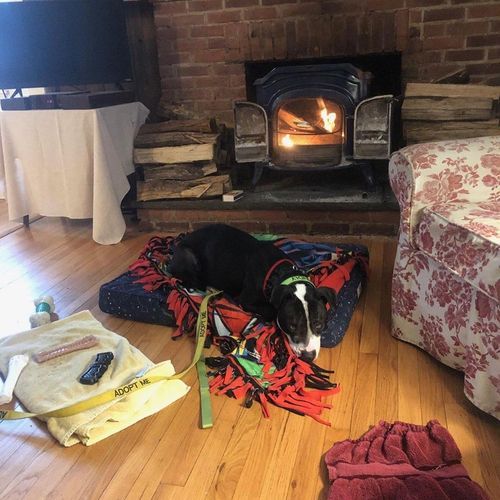 Finn's foster mom reached out to us as she was home alone with no pets (thus a magical opportunity for Finn) or family until the end of the month and was open size, breed and age-wise. Having Finn in her home has proven again why he is an amazing dog that would make a number of families happy: he is friendly, affectionate, athletic and equally lazy when he wants to be. He is housebroken and crate-trained, and is a dream to ride with in the car.
Finn is available for adoption!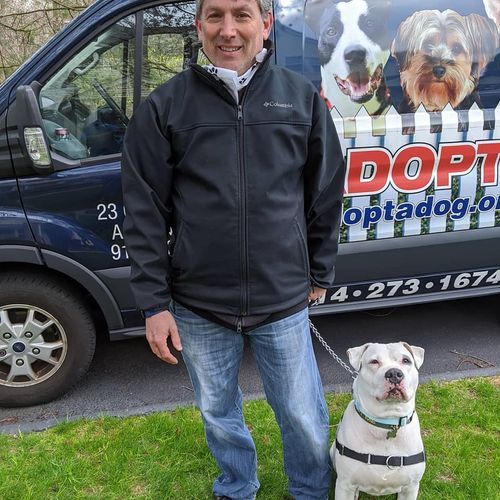 Boo has been a long time shelter resident now since 2015. Our friends at Mt. Vernon Animal Shelter have taken such great care of her and when she was adopted two years ago they thought the job was done. Sadly Boo was returned after a year with her family due to housing issues but they greeted her with open arms. Due to Covid-19 their shelter is understaffed and volunteers are unable to come help. We wanted to do our part to help. So we picked her up and Boo is now in foster with one of our amazing volunteers Scott! We are so excited to help this lovely girl find her new home. Boo is 7 years old, deaf (doesn't hinder her at all), and an absolute sweet heart. 
Boo is available for adoption!
---
Buy Online - Pickup Curbside at Pet Pantry Warehouse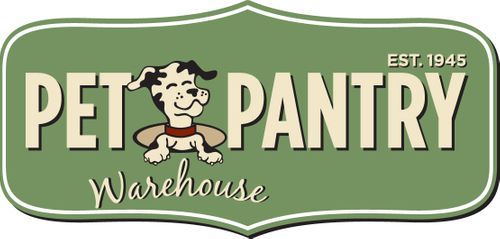 In order to make shopping from Pet Pantry more convenient, Pet Pantry has launched an order online/in store pickup platform: www.shop.ppwpet.com
Many of your favorite brands are now available to purchase from the comfort of your own home. Pet Pantry's team of Pet Consultants will have your order ready to be picked up curbside or walked out to your car within 2 hours. All orders placed after 5pm will be ready for pickup by 12pm the next day. 
They will be continually adding more items to the catalog over time. If there are products that you have ordered in the past and you don't see them available online - please call your nearest store daily from 10am-5pm so they can create a supplemental order for you.
Enter the code CURBSIDE10 at check out for 10% off!
---
Check out Adopt-A-Dog in Animal Planet's Dog Bowl 2020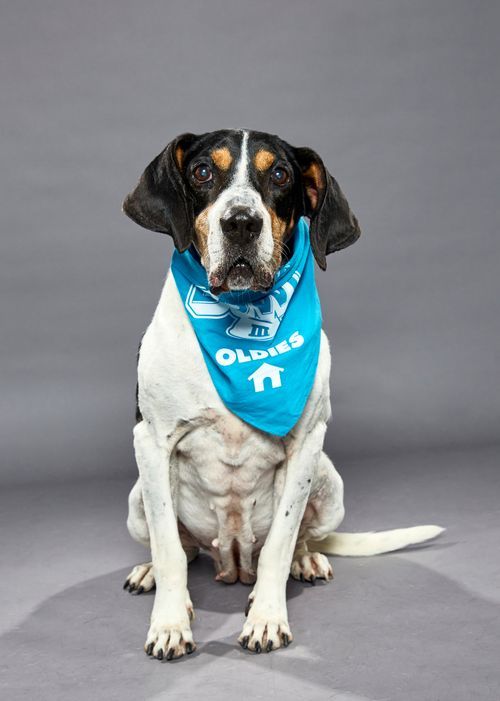 Catch us on Dog Bowl!  Watch the Adopt-A-Dog dogs shine at our 2019 Puttin' On The Dog Show.  You will see Marvin, James and Chatter.
30 minutes in is the Half Time Show!
---
8 Donations That Every Animal Rescue Needs
As animal rescues and shelters around the world brace for fewer volunteers and more surrendered animals, they need your help more than ever.  If you would like to help your local animal rescue but you aren't able to adopt a pet or give a monetary donation, luckily there are other ways you can contribute. Here are some creative ideas on how to make a meaningful difference for a rescue center, without having to take up the responsibility of adoption.
Monetary support
Money is something you can donate to every animal shelter, and they will always need it. Most shelters operate on a tight budget, and the donations they receive through animal lovers and generous members of the community goes towards keeping their vulnerable animals healthy and happy, as well as keeping the shelter up and running. Monetary donations are always tax-deductible, and will make a life-changing difference for animals.
Through a monetary donation, we at Adopt a Dog, and many other animal rescues, can continue offering essential services to animals who need them. You can make a donation of any amount by clicking here. We and our animals appreciate it so much! 

Crates, and carriers
Keeping and transporting animals is impossible without a decent number of sturdy, good quality cages and carriers. If you happen to have one that your pet doesn't use anymore, this can be a very generous donation as they can get costly. The best dog crates are collapsible metal wire cages since they are easier to clean and can be used for different animal sizes.  Click here to check out crates.
Toys 
Apart from the bare necessities, rescued dogs need some kind of mental and emotional stimulation until they find a new home. You can make a bunch of abandoned dogs happy by giving away some old toys, ropes, or other things you can put in a dog crate, like blankets, bed padding, balls, etc.
Cleaning products
Most households have cleaning products and supplies lying around the house. Things like paper towels, cleaning gloves, trash bags, plain laundry detergent, mops, sponges, cloths, etc are vital for rescue centers. Cleaning products like bleach are great for shelters since they're multi-purpose and very efficient in disinfecting the dirtiest of surfaces.
Towels, blankets, and sheets
Any type of washable cloth or a sheet can be useful when dealing with a lot of animals. Towels and washcloths can be used for cleaning up, padding cages, and covering beds. Blankets and linen are great for keeping the dogs and cats comfortable and warm. The best thing is they are easily cleaned and reusable.
Grooming supplies
Most of the animals that are brought to a rescue shelter come in poor condition, usually very dirty and flea/tick-infested. You can always donate animal shampoo, flea treatment collars or medication, combs and brushes, etc. Regular brushing and bathing are necessary to keep the animals healthy and clean.
Office supplies
It may seem off the topic, but if you think about it, rescue centers do need to work outside the kennels as well. Most work includes organizing charitable events, finding potential donors, communicating with adopters etc. The staff in a shelter needs what any office would need, like paper, pens, pencils, sticky notes, paper clips, and anything useful for doing business.

Collars and leashes
Whether used or new, extra collars, martingales, leashes, and harnesses can always come in handy in a dog shelter. 
By donating to animal rescue centers - whether it's through your time, money, cleaning supplies or your pet's old toys - you are making it possible for animal rescues to survive and thrive. So, if you're an animal lover or got your four-legged best friend from a rescue, consider rescues next time you are doing a spring clean or clear out, you may have some items that they would really appreciate.
Finally, if you'd love to help but your living or work arrangements wouldn't suit a dog, you could also sponsor a dog. When you sponsor a dog through monthly payments, you will receive monthly email updates on how your pooch is getting on, including photos. 
You can also view our lovely animals who are looking for their fur-ever homes here.  You can find out how you can foster one of our animals - even if it's just for a sleepover to see if it suits you - here. 
By: Jackie Brown
---