Courtney Bellew named Executive Director of Adopt-A-Dog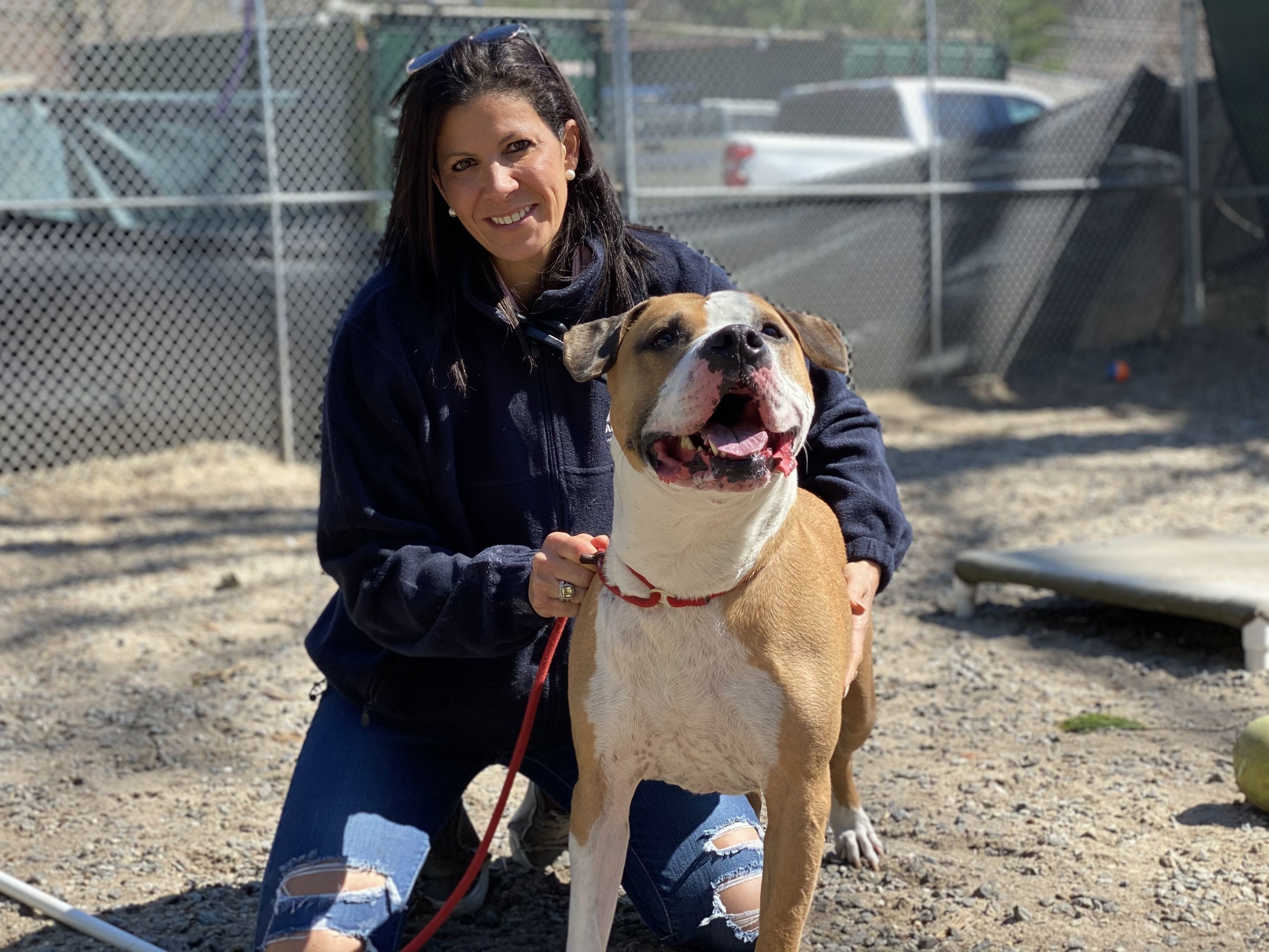 We are pleased to announce that Courtney Bellew has joined Adopt-A-Dog as its new Executive Director.
Courtney will be responsible for all business aspects of Adopt-A-Dog including operations, budget management, adoptions, volunteer relations, and fundraising. She joins us with twelve years of animal welfare experience, most recently as the founder of  SNARR Northeast, an adoption and foster organization, that successfully homed 1200 dogs in 2020, following its mission of Giving Hope to the Hopeless. Many of these placements included dogs with medical challenges.  We know Courtney will approach her new, full-time responsibilities at Adopt-A-Dog with the same dedication, professionalism, synergistic thinking, and strong operational success she has brought to SNARR Northeast, and are thrilled that she has agreed to join us as we continue to grow and evolve in the future.
---
When Shelters Work Together, We Can Save More Animals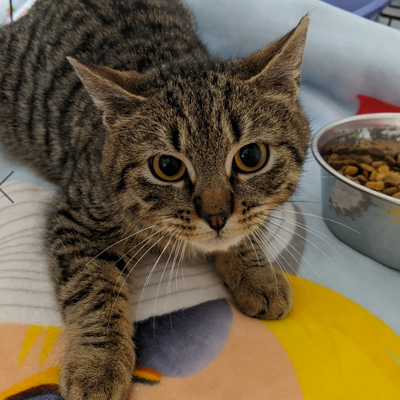 In the past few months, a few unexpected visitors wandered onto the property. The dogs were very interested in our guests, but for the safety of our feline visitors, we thought it better to relocate them from the property. Thankfully, our friends at Paws of Norwalk were able to help by accepting them into their Barn Cat Program. After being safely caught by Adopt-A-Dog staff, a volunteer drove the cats to Paws where their volunteer met her. Paws then took the cats to the vet and relocated them to participating barns around Connecticut. The cats are now living their best lives, catching mice and being cared for, never worrying about their next meal. Their relocation has also brought peace back to the Adopt-A-Dog pack!  To find out more information about Paws of Norwalk Barn Program, please take a look at their website.
Adopt a Barn Cat at PAWS in Norwalk, CT, Chemical-free rodent control
---
Thank you to everyone who helped make an impact in the lives of the Adopt-A-Dog Pack. Please enjoy some highlights of 2020.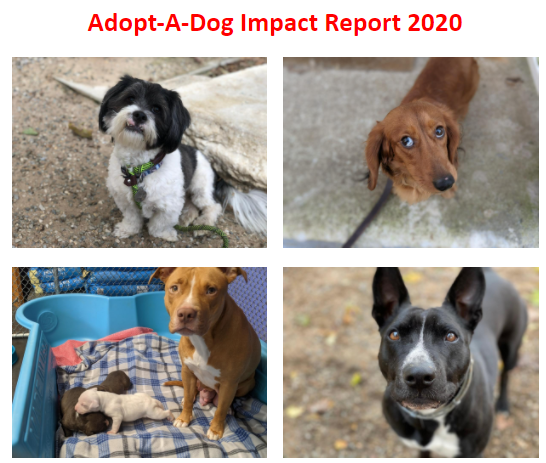 ---
Adopt-A-Dog is need of Unicorn Fosters or Adopters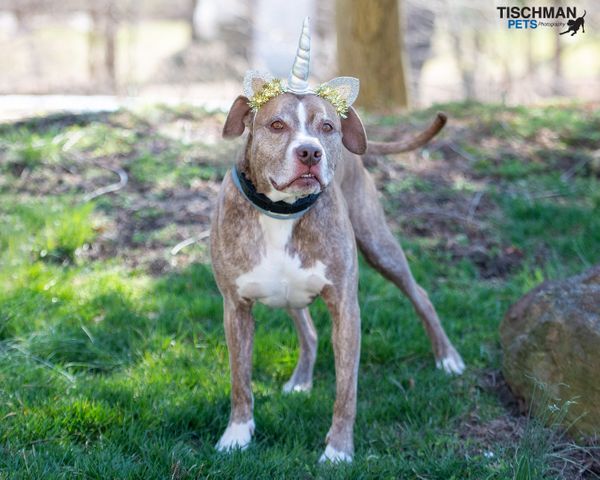 Unicorn fosters and adopters are in a unique situation to be a great match for a very special shelter dog in need. If you answer 'yes' to any of the following questions, you just might be the magical unicorn Adopt-A-Dog is looking for!
Do you live on your own but need some companionship?
Do you have a soft spot for older dogs who have those amazing gray muzzles which reflect all of their years of wisdom?
Have you ever met a dog that has special needs, like a dog who is deaf or whose life is a little more challenging because of physical limitations?
Do you love having one pet to focus all of your attention and energy on?
Do you know what it's like to give a very special shelter dog a place to call home? Do you want to know?
You don't have to answer 'yes' to all of the questions listed above to be considered a unicorn; just one of these perks can open up the possibility of a foster and/or adoptive home for one of our incredible dogs.
These are the types of unicorns Adopt-A-Dog is looking for. The media is showing kennels being emptied due to so many homes opening their doors to shelter animals – the dogs we save need a little extra love and deserve a chance. They can practice their manners, perhaps experience backyards, get tummy rubs, watch TV, and most of all they can finally relax. Shelter life is very stressful on dogs which is why this is so important. You and the rest of the community have always come through for all types of dogs, and now Adopt-A-Dog need your help for these dogs – we can do this!
Adopt-A-Dog has amazing dogs at the shelter in need of unicorn fosters or adopters. The staff at Adopt-A-Dog will make sure you are fully trained and ready to care for one of these dogs. This includes a virtual behavior consult as well as all of the information and supplies you will need to care for the lucky dog going to your home. All fosters and adopters have access to staff 24 hours a day, 7 days a week if you ever have questions, concerns or just want to share a cute picture or video of your foster dog enjoying life.
If you are interested in fostering or adopting please contact Adopt-A-Dog at info@adoptadog.org or take a look at the adoptable dogs at www.adoptadog.org. Located in Armonk, New York, Adopt-A-Dog pulls dogs from local shelters and helps people in the community who are no longer able to care for their dogs. Adopt-A-Dog provides these dogs with lots of love and training, and transforms them into amazing, loving family pets.
There is nothing like the love of a rescue dog. Email Adopt-A-Dog to find out how to become a unicorn!