Response To COVID-19
Adopt-A-Dog is currently temporarily closed to the public.  Adopt-A-Dog wants to ensure the safety of the public, volunteers, and staff. Staff are on site caring for the dogs and are giving them the best care possible during this difficult time.
Adopt-A-Dog is extremely thankful to our community for their support during this tough time. At this time is currently doing adoptions and fosters by appointment only.     
Foster Update & FAQs During COVID-19
We would like to start off with thanking our community who have come together in this difficult time to help the dogs in our care. Rescues and shelters all over the country have received an amazing and overwhelming response from families who are looking to help an animal in need while they are quarantined at home. A dark time in our country has provided a great opportunity for shelter animals to take a shelter break and spend time in a home environment.
Even though we are closed to the public and running on a very small amount of staff on site we continue to send dogs into fosters and doing adoptions. We are doing so while following guidelines by the CDC. Our staff and the public's safety are our top priorities. 
To the families who fostered, are fostering, or reached out to foster for us during these tough times we want to say thank you! Our community has been greatly affected by COVID-19 but even during this difficult period, the interest in helping the animals has not decreased. We want to take this time to update everyone on how the foster process is currently operating and answer a few questions.
Are we still accepting foster applications and sending dogs to foster?
Yes, we are accepting applications and actively sending dogs out to foster. We are prioritizing which dogs are available to foster due to some dogs needing more hands-on training to transition successfully into a home. Due to social distancing guidelines, this can be more difficult to do but we are changing our programs to help assist and provide behavior support to any of our fosters digitally.
How long can people expect to wait between submitting an application to foster and being contacted by our staff? 
Within a few days, you will receive an email from our Adoptions Coordinator introducing herself and acknowledging your application is in our foster bank.
How long can people expect to wait between submitting an application to foster and meeting their potential foster dog? 
By being added to our foster bank we will keep you in mind for any dogs in our care that are looking to go into a foster home. We are prioritizing "Unicorn Fosters". Unicorn fosters are people that are very flexible and have the ability to be flexible with the dog they get matched with due to their unique situation. Some of these things that make them unicorns could be adult-only homes, no other animals, open to special needs dogs, open to senior dogs, and other aspects that could make it easier to fit many types of dogs into their home. Someone doesn't have to fit all of these things listed to be considered a unicorn either; just one of these perks can open up the possibilities of a foster home for a dog.
How long am I expected to foster a dog for? 
Due to the current pandemic, we are asking for at least a week's commitment to your foster dog. Even during normal times our behavior team highly recommends a week-long foster to start if possible; giving your foster dog time to decompress and settle into their new environment. We love our overnight and weekend fosters but while we are short-staffed, facilitating these options is just not possible.
As a foster what will be provided to me?
Fosters will receive all the needed supplies for their new foster dog. The supplies include a crate, bedding, water/food dishes, toys, treats, poop bags, and anything else needed for that specific dog. Fosters always have access to our dynamic duo on the Foster team, Kelly & Tara, for any questions, comments, or concerns that might arise during their fostering period. 
What is expected of me when I foster a dog from Adopt-A-Dog?
We ask our foster families to help us show off and market their temporary house guests to their family, friends, co-workers, etc. Social media is a great way to do this especially as we are in quarantine and in-person adoption events are not possible. We ask that our foster families are realistic with their expectations when it comes to the dog they are fostering. Dogs need time to adjust to their new surroundings and the foster families' schedule. Communication is key to the successful foster experience. We check in to make sure all is going well but foster families are expected to reach out if any questions or concerns arise. Helping with transportation to and from vet visits or adoption appointments at the shelter which are scheduled with our foster family's personal schedules in mind. We try our best to make this the best experience so most importantly enjoy your foster!
What if there are no dogs suitable for my family available to foster? Why no puppies?
This is a great "problem" rescues and shelters are running into all over the country. With so many families currently quarantined in their homes, animal welfare groups are seeing the highest number of people wanting to foster animals ever in their time. Adopt-A-Dog is a small rescue that cares for 35-45 dogs at any given time. So if we currently don't have puppies, for example, it is because the puppies we had have been adopted or already in foster waiting to be adopted. One part of our mission is to save unwanted and abandoned dogs. Dogs come into our care mostly from private owner surrenders and transport from larger high volume shelters. The need for a variety of fosters extends into our population of dogs, so while there may not be puppies or younger dogs available at the moment to foster we might still be in need of fosters that have other qualities such as not having other pets at home. We may not have a dog for you and your family to foster initially but being in our foster bank means that we will keep you updated and also send you other rescues and shelters in our coalition that could have a need for specific fosters more urgently.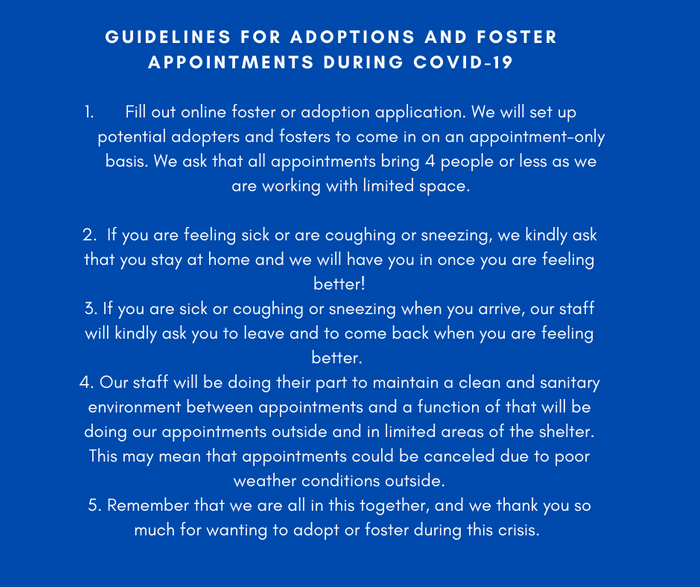 ---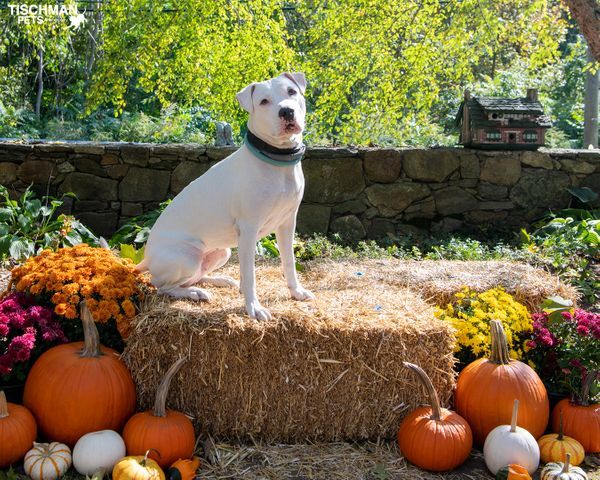 To spread awareness tell your friends about fostering for Adopt-A-Dog.  All foster through Adopt-A-Dog receive all the supplies needed in order to care for the dog.  This includes food, crate, toys, medicine if needed, etc..
Plan ahead: Pet owners are encouraged to make plans for their pets in case someone in the home falls ill. People should stock up on two extra weeks of pet supplies and identify a pet sitter who can help out if the pet owner becomes hospitalized. 
As we learn more and more about the Coronavirus we would like to share with the public what steps Adopt-A-Dog is taking in response to prepare for any possible impacts the COVID-19 has on our dogs and our community of pets and people. 
At Adopt-A-Dog we have staff on-site who are giving the dogs the best care possible while we work through this situation.  We have closed the shelter to the public for the safety of our staff and the community.  This means that we are closed to volunteers and adoptions.
Please make sure you are prepared for yourself, family, and your pet in case you become ill or are quarantined.
How to prepare your pet in case of emergency:
People should identify a family member or friend who can care for pets if someone in the household becomes ill.
Have crates, food and extra supplies on hand for quick movement of pets.
Keep all animal vaccines up to date in the event boarding becomes necessary.
Ensure all medications are documented with dosages and administering directions. Including the prescription from your veterinarian is also helpful.
Pets should have identification: collar with ID tag and microchip (best practice is microchipping).
This situation is fluid and information has been changing – we will continue to update you if anything changes with Adopt-A-Dog.  Keep yourself informed by referencing up-to-date information provided by the CDC, the World Health Organization, the American Veterinary Medical Association, and the World Organization for Animal Health. 
The World Health Organization (WHO) released a statement saying "there is no evidence that dogs or cats can be infected or could spread the virus that causes COVID-19'.
At this time we are accepting foster applications for emergency on-call fosters. All fosters with Adopt-A-Dog receive vet care, crates, supplies and food for the dog. Foster Application
This is the time for the community to come together and work together to help each other and homeless pets in need.