Callie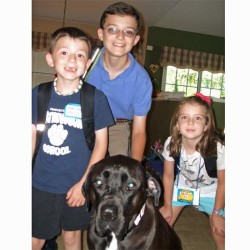 Hi,
We just wanted to give you a quick update on Callie (one of Fergie's pups).
It is hard to believe that Callie will turn three years old next month! She is a wonderful dog and we are so grateful to Adopt-A-Dog for helping us find each other. Callie has FINALLY finished growing and has reached 108 pounds!
We are attaching a link with a picture of Callie and her three "siblings".
Thank you for all you do,
All our best,
Dan and Bridget