Brody (formerly Chazz)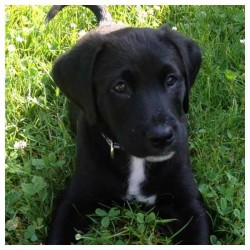 Hi there – Apologies in advance for our long overdue note about Brody (formerly Chazz). We adopted him on June 20th and it has been a wild and wonderful seven weeks!
Brody is a 22lb social butterfly. He loves people and other dogs, and thinks that anyone we walk past must stop and say hello to him before moving on. He's got the sweetest face, and pretty much everyone obeys this little rule, stopping to gush over him for a few minutes. He's nearly potty trained, letting us know he has to go out by standing at the front or back door (9 times out of 10!). He sleeps through the night, and knows "sit", "down", and "stay" really well. He tried swimming (in a life jacket) in the Long Island Sound last week and wagged his tail the entire time in the water. He loves to eat – loves it! And loves ice cubes! We're working on "leave it", not jumping when he first sees people, and some separation anxiety (he sometimes poops in his crate when we leave the house…). He's also enrolled in puppy kindergarten at Best Friends in White Plains, which has been good for all three of us.
We are beyond in love with him, can't imagine how life was before him, and just can't get enough of him. We feel so fortunate to have found him – so thank you!! Attached are a few pictures of our boy.
Thanks again, and talk soon.
Maureen & John Cotter