China and Simba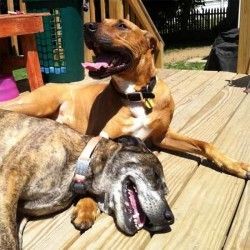 Alumni from long ago! We adopted China back in 2006 and Simba in 2007. All these years later we could not imagine our family without these two wonderful pups!
China…a not so friendly dog when she was first adopted. She was very insecure and protective, liking only the members in our household. Used to be neglected or kept in a cage, this girl has graduated to full on Princess. She likes her sheets washed weekly. She is perplexed when she is told she can not sit in the chair, I mean after all She is China Girl! She has come to love all that enter our home, even young children. While it can be said that we gave her a better life, we prefer to say that she gave us a better life. She proved that with love and trust, even those that seem unlovable can turn around and see that love is all there is.
Simba…a 10 month old puppy when we got him. Five years later…a five year old puppy still! He is starting to gray a bit around the muzzle but this does not stop him from still acting the fool that wants to play and be loved 24/7. He makes us laugh and reminds us often that life is all about playing hard and sleeping harder.
These two pups have been through more than most. We experienced a house fire in January 2011 and the dogs were home alone. While China greeted the firemen at the door and convinced them that they needed to get her out, Simba hid under a bed. It took two neighbors to get the firemen to hear that there was another dog inside. Our Simba was found and brought to safety. Our house was destroyed, so the dogs were displaced in another home, without their family, for two weeks until we were able to find a temporary home that would accept two large dogs. Over a year later we moved home. These dogs never forgot where they belong. Their favorite stranger ever is our builder. He must have left his scent for when he came by, he was greeted with kisses and hugs from both pups.