Nike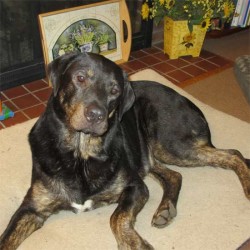 Hi Everyone:
Nike has now been part of our family for 6 months. What a joy he is! It is frequently like having an 80 lb. goofy puppy living with us. We've never had a dog express joy as Nike does, with his whole body wiggling & tail thumping against doors and walls. He is very smart, learning things like "go to your bed" and "touch" very quickly, which has helped with his training. He is doing very well with Diesel and Ember. He still gets too rough with Ember at times and their outdoor play has to be monitored. Ember certainly appears to like wrestling with Nike most of the time as she will initiate play if he hasn't. They chase each other around the yard, running like the wind and then play hide & seek around a big shrub. Nike knows that Diesel will not tolerate any rough play so he behaves himself with Diesel.
Nike loves his food. He knows when it is time for a meal, will come into the kitchen and look up at the top of the refrigerator where the filled dog dishes are waiting. Kristen – the special dog dish & moistening his food has slowed him down just a bit! He still loves branches and dirt and has even tried the bark on some trees. There will not be much gardening taking place this year as he pulls plants out of the ground or wants to eat them. In addition, Ember & Nike tear through the flower beds when running around.
Within a month, Nike was sneaking up on the bed during the night, joining Ember and Diesel. They now each have their own spot, leaving me with very little room some nights. And, Nike snores! Belly rubs is a favorite.
We continue to work on Nike's fear of people and dogs. We recently completed an intermediate/CGC prep class and are taking it again. The trainer & her assistants love Nike. As he gets more and more comfortable with them, he becomes the class clown, with everyone laughing at his antics. We also attend our trainer's real world classes – meeting, with other dogs/owners, at a beach, park or pet store. We work on socializing and manners.
His allergies are under control. When he starts scratching, we now put the medicated conditioner on him ourselves. He is so good about it, letting us dampen his coat & rub the conditioner in.
We are very glad he is part of our family. Special thanks to Nancy & Jose for the love & care you provided to Nike during his time at ADD.
Love,
Debi, Michael, Diesel, Ember & Nike Fasanella