Smiley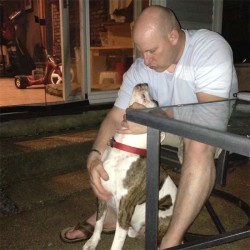 We adopted Smiley (now Samson) from your organization 8 years ago this week (Oct 2005). My husband and I got engaged that same week, moved into our first home, and Samson became our first "baby" in our new household. He has been the best dog in the world and as he enters his twilight years (he is now 9 1/2) we are still grateful that your shelter chose to intervene when he was surrendered to NYC Animal Control in March 2005.
I just wanted to share some recent photos, in case there are any volunteers left from 2005 that might remember him (we were told he was one of the favorites since he spent many months in the shelter and hanging out in the main office with the staff before my husband spotted him on Petfinder).
Thank you again for all that you do to rescue these wonderful animals!