Zoey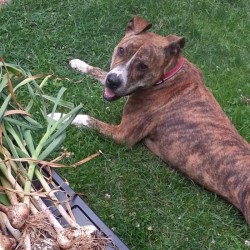 Hi everyone at Adopt-A-Dog!
I hope you all are doing well! We also appreciated you call last week checking up on how Zoey is doing.
We can't believe it's been a month since she became a part of our family! Attached are a few recent pictures.
We normally take walk twice a day. In the morning for about 30-40 mins. Then in the evening for about an hour. As soon as we get home from work, she is happy to see us with her tail wagging, a big grin and usually a toy in her mouth.